Photo Rejuvenation with Cutera LimeLight™
For Treatment of Freckles, Sun Spots, Age Spots, Fine Lines, Wrinkles and Tiny Red Veins.
Undo your skin sins of the past! If excessive sun exposure has left you with freckles, sun spots, age spots, broken capillaries, fine lines and other skin concerns, then Cutera LimeLight™ is the right treatment for you. This quick and easy treatment will leave you with the smooth, clear skin of your youth.
Your GloAesthetics Professional uses LimeLight™ treatment to target any discoloration within the skin and draw the unwanted pigment to the surface. The light is concentrated to target its power deep down into the dermis to treat acne, veins and discolorations. A couple of days after each treatment the pigmented area will rise to the surface and flake off. This process is assisted with chemical peels between treatments to help continue the exfoliation process, and provide improved skin tone and texture.
• Helps remove solar lentigines and skin pigmentation
• Improve skin tone
• Restore youthful glow to your face
• Helps reduce vascular lesion
• Minimal to no downtime
• Non-surgical
• U.S. FDA clearance for a vairety of indicaitons including benign pigmented lesions and vascular lesions
When the pulse of light is delivered, you will experience a mild pinching or stinging sensation. Immediately following treatment, brown spots will start to darken and your skin may appear slightly red. The treated area may be mildly swollen. This typically lasts a few hours and possibly a day or longer. Make-up can be applied to cover the redness. Within one to two weeks, the darkened spots will flake off and fade. Diffuse redness or telangiectasia will decrease and your mottled complexion will improve. Multiple treatments needed to maintain benefits
Cutera Limelight Skin Pigmentation Treatment Results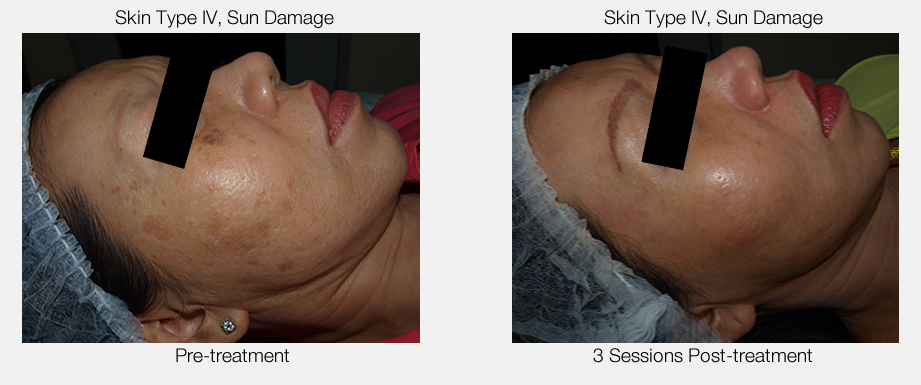 Videos featuring Cutera Limelight Treatments
Schedule An Appointment Now!
You'll see visible results in just One session!
GloAesthetics only use U.S FDA & CE cleared medical grade aesthetic machines to perform skin pigmentation treatments to ensure client's safety and treatments efficacy.
All treatment are done by certified medical aesthetician and nurse aesthetician.
Schedule An Appointment Now!